Our guest blog is from our former colleague Deirdre Daly, now a UX Designer in Amsterdam. Deirdre provides an insight into recent digital initiatives in the Netherlands which aim to share cultural heritage assets with new audiences.
Hacking Heritage – what happens when cultural assets meet digital technologies
What place cultural heritage these days when we seem to have such a penchant for creating and consuming incredible amounts of user generated content? Erik Kessel's 2011 installation  at Amsterdam's Foam Gallery filled the halls of the gallery with physical printouts of every publicly published picture on the internet in a 24 hour period, demonstrating  just how many personal digital artifacts are created on a daily basis.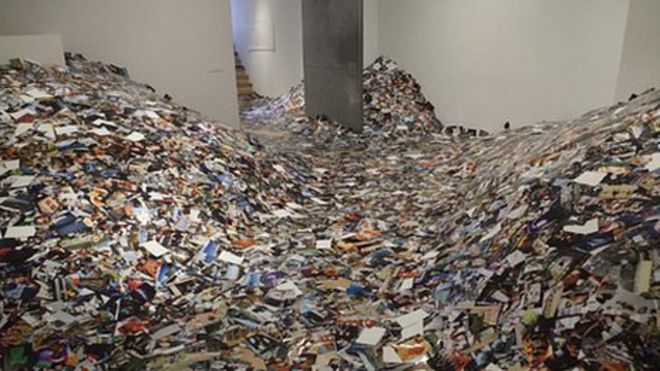 Kessel's 2011 installation 24 hours in photos 
Back in 2010, Google's Executive Chairman Eric Schmidt claimed  that every 2 days we create as much information as we did from the dawn of civilization up until 2003 (much of which is user generated content).
So while there is a deluge of information being produced at a rate almost too overwhelming to comprehend, there are digital resources and tools are at our fingertips (and not yet in our fingertips, but who knows) to both create user generated content and consume data. Which means there must be fantastic opportunities for galleries, libraries, archives and museums – often collectively referred to as GLAM – and other providers and keepers of cultural and heritage collections to engage with audiences in new and exciting ways. Initiatives like OpenGlam actively encourage cultural institutions to open up their collections and data for improved public awareness and discoverability, to enable new uses, combinations and sharing of data with audiences – in effect "hacking" heritage.
The Future Heritage Lab at the Waag Society (innovation centre of excellence for art, science and technology)  is another innovative heritage initiative. They research "How (social, sensor and mobile) network infrastructures and interactive devices help create new connections between heritage institutions and audiences". The lab works with other heritage organisations to create enriching digital heritage experiences that involve new hard-to-reach audiences, using playful interactions, design and co-creation techniques.
A project (Atlanikwall) about smart objects in museums from Future Heritage Lab
Given the importance of cultural heritage and its ability to connect audiences not only with past generations, but to the future, initiatives like the Future Lab and Hacking the Future Research Group at Maastricht University (who investigate how hacking and making practices may be integrated in GLAM institutions), gain extra importance.
These initiatives are crucial, not only for cultural heritage audiences but also for GLAM organizations devising future digital strategies to engage and maintain audiences. In an increasingly digital world, such initiatives may even help put the deluge of user generated content into context.